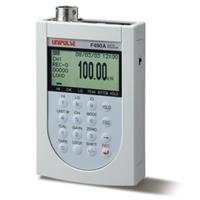 Unipulse F490A - Unipulse Vietnam | ANS Vietnam
Nhà cung cấp: ANS VietNam
Liên hệ tư vấn

Sales ANS

sales.ans@ansvietnam.com

028 3517 0401
F490A
Portable Digital Indicator with Recording Function
Product Outline
F490A is a compact, lightweight handheld digital indicator for strain gauge type sensors that allows measurement of load, pressure and torque.
F490A is a compact, lightweight handheld digital indicator for strain gauge type sensors that allows measurement of load, pressure and torque. The measurement data is recorded in CSV format in its internal memory, and the file can be referred to and copied through USB interface. F490A is equipped with fulfilling functions such as a variety of information displays, four types of hold functions including Peak and Valley, multi-calibration function that enables storing four channels of calibration values and allows them to be selected by a field sensor, and a HO / LO limit comparison function. The operation of AA alkaline batteries provides continuous use for approx. 30 hours*.
*Connectable to 350Ω series sensor while backlight is off.
Specifications
ANALOG SECTION|DISPLAY SECTION|SETTING SECTION|RECORDER|HOLD SECTION|MEASURING MODE|INTERFACE|GENERAL SPECIFICATIONS|ACCESSORIES
ANALOG SECTION
Excitation voltage
DC3V±10% Output current: within 35mA
Signal input range
-3.0 - +3.0mV/V
Equiv. input calibration range
+0.5 - +3.0mV/V
Zero adjustment range
-2.0 - +2.0mV/V
Gain adjustment range
+0.5 - +3.0mV/V
Accuracy
Non-linearity: within 0.02%FS (at 3.0mV/V input)
Zero drift: within 0.3μV/℃RTI  
Gain drift: within 5ppm/℃
A/D converter
Speed: 80 times/sec.
Resolution: 24bit(binary)Approx. 1/30000 at 3.0mV/V input
DISPLAY SECTION
Display unit
128×64 dot black and white LCD
Measured value
5digits: -99999 to +99999  Sign: Character height: 14mm
Status display
Status display1……R(Recording) / A(AC adapter on use) / U(USB in connection) / N(NOV RAM reading) / B(Backup battery abnormal)
Status display2……HI/OK/LO/PEAK/BOTTOM/HOLD
SETTING SECTION
Setting items

・Tare*/ equivalent input calibration/ span calibration/ zero calibration(one-touch zero)/ weight unit setting*/ channel setting/ HI setting/ LO setting/ machine ID setting*/ setting value lock
・Unit/ digital filter/ MD(period, range)/ZT(period, range)/ near zero/ digital zero/ minimum scale
・Data/ buzzer/ backlight/ auto off/ version display/ memory check/ initialization
・Hold: mode/ range/ start level/ end level/ monitoring time
・Graph: time axis*/ mode*/ trigger edge*/ trigger level*/ pre-trigger*
・Operation mode/ HI/LO comparison mode/ measuring mode*/ recording mode*/ real-time output*

* not usable at Simple Operation Mode
RECORDER
Recording function
・Record when [REC] is pressed
・Record when stability is detected
・Record hold value at hold-release time
・Interval recording(records data at every fixed interval)
・Records graph data(records data displayed in graph)
Recording media
Internal memory
Recording method
Text form of CSV format
Recording data
ID, number of recordings, recording data, measured channels, measured values, unit
Number of recording data
20,000 data
HOLD SECTION
Hold Mode: Peak Hold/ Valley Hold/ Peak-to-Peak Hold/ Sample Hold
Data monitoring range: All ranges/ level/ level + time
MEASURING MODE
Load measuring/ counting
INTERFACE
USB interface(Communication standard: Compliant with USB Ver.1.1 Communication speed: Full speed Class: Mass-storage and virtual COM port OS: Windows XP (SP3),Windows Vista (SP1))
・File operation The F490A is recognized as a drive, which enables file reference and copying.
・Virtual COM port Set values can be read and written by terminal software.
・Real-time output Measured data are output in succession on USB.
GENERAL SPECIFICATIONS
Internal power source
AA alkaline batteries or nickel metal hydride batteries (4)
External power source
Dedicated AC adapter (for 100V AC, for free power source)
Current consumption
When a 120Ω sensor is connected: Approx. 60mA (back light off)
When a 120Ω sensor is connected: Approx. 70mA (back light on)
Backup power source
Set values and record data are maintained by the lithium battery (warranty period 5 years or more)
Continuous use time
When a 350Ω sensor is connected: Approx. 30 hours (back light off)
When a 120Ω sensor is connected: Approx. 12 hours (back light off)
Operating conditions
Temperature: -10℃ to +40℃
Humidity: 80%RH or lower(non-condensing)
External dimensions
86(W)×132(H)×30(D)mm(not including projections)
Weight
Approx. 290g (including the battery weight approximately 95g)
ACCESSORIES
Sensor connector
 1
AA alkaline battery
 4
CD-ROM
 1
Operation manual
 1
Optional Accessories
| | |
| --- | --- |
| Model | Description |
| AP0516 | Special AC adapter (for AC100V) |
| AP0520 | Special AC adapter (for free power source) |
| CA81-USB | 1.8m miniUSB-computer USB cable |
Download
Product Catalogue
Operation Manuals
External dimentions
Support Tools
Software

GC2011
Unipulse Vietnam | ANS Vietnam