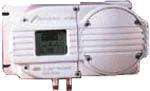 SERVOTOUGH 1800 Oxygen Analyser - Servomex Vietnam | ANS Vietnam
Nhà cung cấp: ANS VietNam
Liên hệ tư vấn

Sales ANS

sales.ans@ansvietnam.com

028 3517 0401
SERVOTOUGH 1800 Oxygen Analyser
The 1800 is a stable, accurate and highly specific oxygen analyser for safe area use. It is designed to reliably measure percent oxygen in many safety critical industrial applications.

Designed for safe area oxygen analysis
Low maintenance and re-calibration requirements
Special version for solvent bearing samples
Range of alarm outputs to aid integration with other systems
Easy to set up and operate
Technology Used
Oxygen – Servomex's unique paramagnetic cell, which offers a fast, linear, accurate, highly stable and selective response in a non-depleting rugged package.

Features
Fast response
Low cross sensitivity to background gases
Extremely low drift
Isolated 4-20mA analogue output
Concentration, range indication and flow fail alarm relay outputs
Reliable analogue based electronics
Solvent vapour tolerant version available
Weatherproof enclosure
Typical Applications
Ambient air monitoring
Gas cylinder storage
Safety inerting monitoring
Marine inerting applications
Service Training
Servomex provides comprehensive maintenance and service contracts for all our products and systems. We are also able to provide extended warranty on our entire range of products.

As part of our commitment to providing valuable aftersales support, we are developing extensive training schemes for customers. If you are interested in attending a course please contact us directly using the service enquiry form

System Capabilities
Servomex offers a complete system solution covering all aspects of sampling system design, build and project management. Please contact your local Servomex office for further information.

Servomex Vietnam | ANS Vietnam