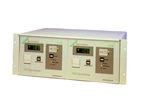 SERVOPRO 1440 Gas Analyser - Servomex Vietnam | ANS Vietnam
Nhà cung cấp: ANS VietNam
Liên hệ tư vấn

Sales ANS

sales.ans@ansvietnam.com

028 3517 0401
SERVOPRO 1440 Gas Analyser
The 1440D provides a convenient solution for the measurement of one or two of the following gases: oxygen, carbon dioxide, carbon monoxide and methane.

Excellent stability and performance
Low maintenance
No electrochemical cells to replace or renew
Variants suitable for flammable / toxic sample gases
19" rack, panel mount or bench-top case options
Concentration and low flow alarms
Technology Used
Oxygen – Servomex' unique paramagnetic cell, which offers a fast, linear, accurate, highly stable and selective response in a non-depleting rugged package.

Carbon monoxide (CO), carbon dioxide (C02), Methane (CH4) – Single beam, single wavelength infrared technology, which gives a highly stable, selective measurement.

Features
Measures one or two gases
Concentration and low flow alarms
Voltage and current outputs
Bright LED display
Typical Applications
Laboratories and research
Landfill gas
Fermentation processes
Physiology testing
PSA/VSA control
Service Training
Servomex provides comprehensive maintenance and service contracts for all our products and systems. We are also able to provide extended warranty on our entire range of products.

As part of our commitment to providing valuable aftersales support, we are developing extensive training schemes for customers. If you are interested in attending a course please contact us directly using the service enquiry form

System Capabilities
Servomex offers a complete system solution covering all aspects of sampling system design, build and project management. Please contact your local Servomex office for further information.

Servomex Vietnam | ANS Vietnam