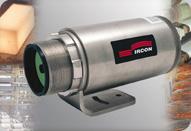 Modline 7 Ircon - Ircon Vietnam | ANS Vietnam
Nhà cung cấp: ANS VietNam
Liên hệ tư vấn

Sales ANS

sales.ans@ansvietnam.com

028 3517 0401



| | |
| --- | --- |
| Lowest Measured Temperature | -40° F / -40 ° C |
| Highest Measured Temperature | 5432° F / 3000 ° C |
| Operating Wavelengths | Seven different wave bands available from 1.0 to 14 μm |

The Modline®7 infrared thermometers are designed for continuous temperature monitoring in nearly any application in industrial temperature process control. Offering 7 different series to choose from (72, 7G, 76, 75, 77, 78 & 74), these rugged pyrometers feature an IP65 (NEMA 4) enclosure, standard motorized focus control, as well as through-the-lens and laser sighting.

With the extended temperature ranges, high resolution optics and fast response times, the Modline 7 provides versatility to solve your most demanding applications. An intuitive sensor design, with integral water cooling in a stainless steel enclosure or high temperature waterjacket, reduces installation and setup time. Standardized installation accessories and common ModView™ Pro software platform minimize multiple product configurations at your factory.

Modline 7 and ModView Pro software highlights:

Designed for rugged industrial environments
Standard through-the-lens and laser sighting on all models
Remote motorized focus
integral stainless steel cooling enclosure
Simultaneous analog and digital outputs
Free ModView Pro software and additional communications utilities to monitor up to 32 Modline 7 sensors
Advanced signal conditioning filters (peak picker, valley hold and averaging)
Background compensation
System or process alarm outputs directly from the sensing head

Series

Wavelength

Temp Span

Applications

72 Series
1.0µ
752-5432°F
400-3000°C
Semiconductor, metals forging, hardening & molten glass
7G Series
1.6µ
572-4082°F
300-2250°C
Ferrous, non ferrous and unoxidized metals, galvanizing lines & steel annealing
76 Series
2.4µ
212-1112°F
100-600°C
Small, low temperature targets, wire coating & annealing, plastic tubing extensions
75 Series
3.9µ
482-2012°F
250-1100°C
Furnace refractory, flame hardening & brazing
77 Series
5.0µ
482-4082°F
250-2250°C
Glass surface temperatures, glass tempering & float glass, ceramics
78 Series
7.9µ
572-1652°F
300-900°C
Ultra-thin drawn glass
74 Series
8-14µ
-40-1472°F
-40-800°C
Low temperature applications: thick plastics, food, carpeting, coated paper & thermoforming

ModView™ Pro Software
Modline 7 series features a suite of software programs and utilities to interface to the sensors, including ModView Pro software. With built-in user interface, ModView Pro displays targets temperature and allows for sensor parameter adjustment to configure or fine tune your sensor remotely. You can easily change temperature display from ºF to ºC, set or change emissivity levels, scale the range, focus the sensor, and turn on or off filters, such as peak hold, valley hold and averaging, as well as save data for future reference or graphing. Users can also preset alarms for early warning detection, system on/off control or for quality record keeping.

SPECIFICATIONS

Operating Ambient Temperatures:

without cooling 5ºC to 65ºC (41ºF to 150ºF)
with integral air cooling 10ºC to 120ºC (50ºF to 250ºF)
with integral water cooling 10ºC to 175ºC (50ºF to 350ºF)
with high temperature waterjacket cooling 10ºC to 315ºC (50ºF to 600ºF)

Humidity:
10 to 95% non-condensing

Weight:
1.95 kg (4.3 pounds)

Additional specifications and product dimensions are available in Modline 7 product brochure.
Ircon Vietnam | ANS Vietnam