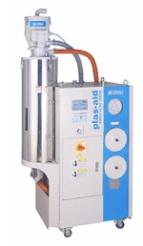 MJ3 Dehumidifying Dryer and Loader - Matsui Vietnam | ANS Vietnam
Nhà cung cấp: ANS VietNam
Liên hệ tư vấn

Sales ANS

sales.ans@ansvietnam.com

028 3517 0401
MJ3 Dehumidifying Dryer and Loader
Introducing the Multi Jet 3
Dehumidifying Dryer and Loader



Versatile, high performance in a compact, portable design.

Download the brochure.

The MJ3 dehumidifying dryer and vacuum loader uses advanced dessicant rotor technology to cut your drying times in half.

Packed With Performance
The MJ3 combines a dehumidifying dryer and vacuum loader into one compact design. It offers more features as standard equipment with a smaller footprint than comparable systems, giving you maximum performance in minimal space.

Virtually Maintenance Free
The MJ3's rotor has a 15-year life, designed to run without replacement. Heater circuits have solid state relays, providing 10 years of maintenance-free operation. Routine maintenance can be performed from the front of the system, quickly and easily.

Point-To-Point Dry Air Conveying
The MJ3's drying hopper is designed to create mass flow with no short pass. It is equipped with a programmable loader, which releases measured amounts of resin at specific intervals. Pellets are conveyed using warm, dry air and delivered for the next loading cycle on a just-in-time schedule. This keeps pellets at the optimum moisture level from the dryer to molding machine, maximizing performance and minimizing part defects.

Touchpad Programming
An easy-to-use touchpad simplifies programming, enabling you to preset operations, monitor settings, view progress and make changes effortlessly.

Energy-Saving Construction
Insulated stainless steel construction prevents heat loss, and while drying resin in half the time, it saves hours of energy with every material change.
Matsui Vietnam | ANS Vietnam