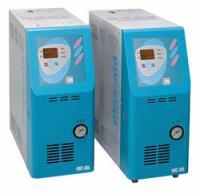 Mộ điều khiển nhiệt GMCH-25A , GMCH-55A , GMCH-88A , GMCH-200A , GMCH-350A Matsui - Matsui Vietnam | ANS Vietnam
Nhà cung cấp: ANS VietNam
Liên hệ tư vấn

Sales ANS

sales.ans@ansvietnam.com

028 3517 0401
Mold Temperature Controllers
MC(GMC) Series Mold Temperature Controller
Reliable, full-featured unit in a compact, portable design.

Download the brochure.

Precision Control and Economy
The extremely economical MC(GMC) Series accurately monitors and maintains temperatures to within 1 degree of set point, and maintains the optimum production temperature by sampling mold temperature four times every second. As a result, target temperatures are hit with precision and are accurately maintained cycle after cycle, maximizing your output and minimizing rejects.

Virtually Maintenance Free
The MC(GMC) is engineered to last. The heater control uses maintenance-free, solid state relays. And all critical internal components are constructed using stainless steel. You just plug it in and forget it.

Touchpad Programming
An easy-to-use touchpad simplifies programming, enabling you to preset operations, monitor settings, view progress and make changes effortlessly.

Energy-Saving Construction
The unit's precision control software and technologically advanced circuitry, along with an energy efficient, insulated heater tank provide significant energy savings and reduces heater "on" time up to 8%. In addition, heater pump sizes are optimized for performance, minimizing energy consumption.

Packed with Standard Features
The MC(GMC) Series comes complete and ready to integrate into production. Units come with 2-way or 4-way manifolds and ball valves, ready to install. In addition, it includes an adjustable pressure bypass valve, allowing you to tailor and optimize performance for different jobs. Even casters are included in this compact unit so it rolls easily into each new production station.
Matsui Vietnam | ANS Vietnam