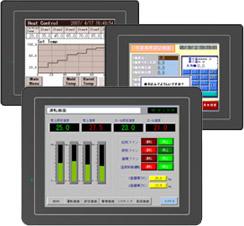 Màn hình cảm ứng Hakko V7 Series - Hakko Vietnam | ANS Vietnam
Nhà cung cấp: ANS VietNam
Liên hệ tư vấn

Sales ANS

sales.ans@ansvietnam.com

028 3517 0401
V7 general catalog
(November 2006)
PDF:23,357Kbyte


SVGA Compatible (12, 10 and 8-inch models)
Three models (12, 10 and 8 inch models) feature high resolution images of SVGA (800 × 600 dots) and image data sharing capability. Screen data on your MONITOUCH can be copied onto a new unit when changing the unit model.

Full-color Display with 32,768 Colors
32,768 color display is available on all V7 series. Full color screens reproduce pictures, illustrations and video images vividly. Screen configuration software "V-SFT" provides three-dimensional images to make the best use of the color display.

Temperature Controller Network
Connecting a PLC and temperature controllers directly to the V7 panel facilitates data exchange between the PLC and temperature controllers, and enables memory monitoring, parameter setting, logging and batch setting. Various connecting options such as inverters, loadcells etc. are available to meet your system requirements and simplify PLC configuration.



V715

*1







V712iS/V712S

*1




V710iS

*1




V710iT/V710T

*1




V710C

*1





ΔTop
| | | |
| --- | --- | --- |
| V708iS | | V708C |
42.5mm slim displays with a USB port

V706T





V706C





V706M




Hakko Vietnam | ANS Vietnam