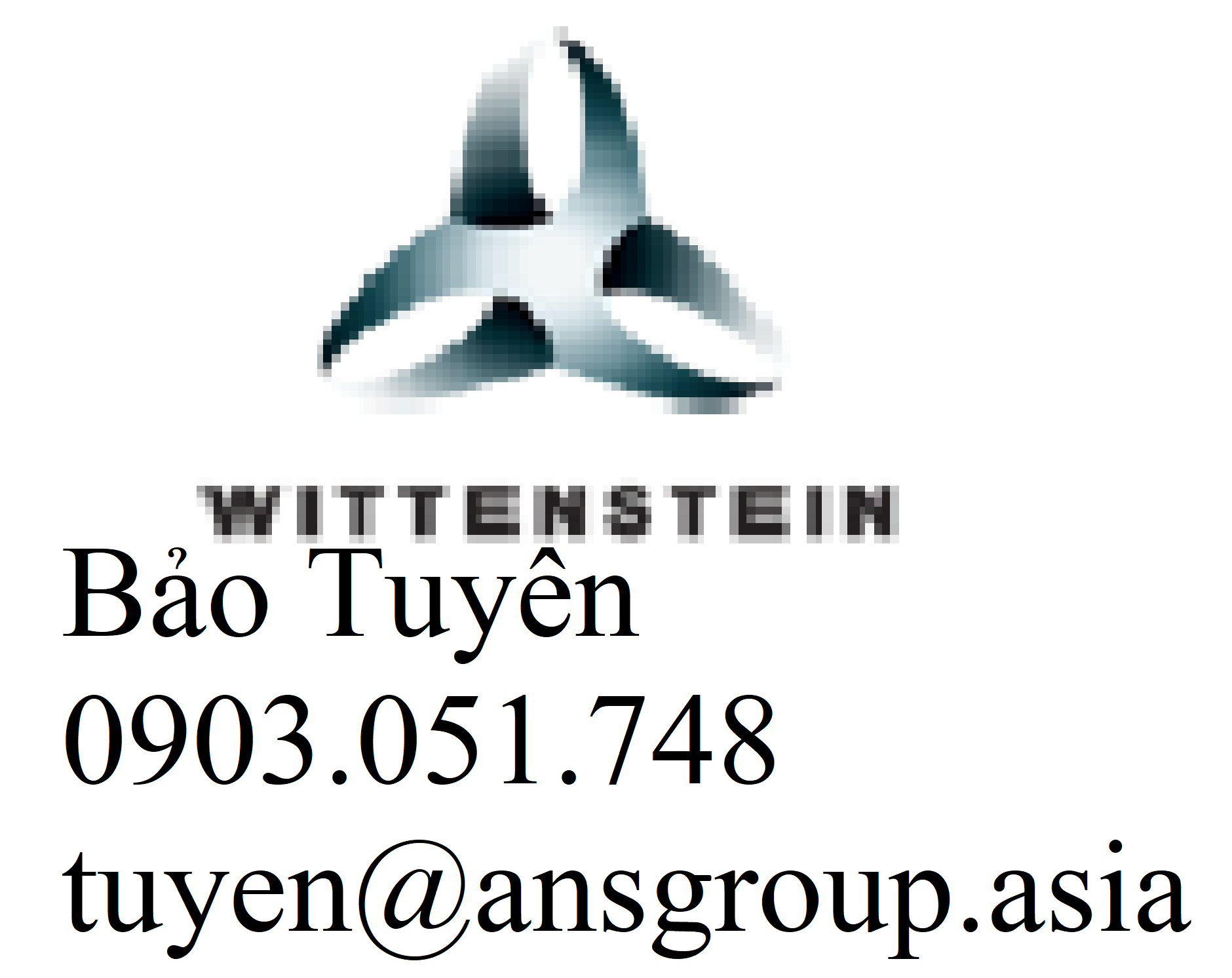 Introduction Wittenstein
Xuất sứ: Introduction Wittenstein
Nhà cung cấp: Introduction Wittenstein
Ứng dụng sản phẩm: Accessories
Liên hệ tư vấn
Wittenstein
https://www.wittenstein.de/en-en/company/wittenstein-group/
Introduction
The WITTENSTEIN Group's headquarter is in North American, possesses exceptional expertise for the mastery and further development of all technologies relevant to mechatronic drives and other products such as high-precision planetary gearboxes, complete electromechanical drive systems and AC servo systems and motors. The areas of application are robotics, machine tools, medical technology and aerospace.
WITTENSTEIN develops customized products, systems and solutions for highly dynamic motion, maximum-precise positioning and smart networking for mechatronic drive technology.
Our fields of competence
Machine and Plant Construction

Automation, Robotics, Handling
Machine Tools
Food & Packaging
Woodworking
Semiconductors & Electronics Assembly
Plastics & Rubber Processing
Other Industries

Energy
Medical Technology
Measurement and Testing Technology
Nano Technology
Oil & Gas Exploration
Aerospace
Simulation
Automotive & E-Mobility
Digitalization
WITTENSTEIN - Main product
Servo gearboxes

Low-backlash planetary gearboxes : CP / CPS alpha Basic, LPB+ Generation 3 alpha Value, NP / NPL / NPS / NPT / NPR alpha Value, SP+ / SP+ HIGH SPEED, alpha Advanced, TP+ / TP+ HIGH TORQUE- alpha Advanced, XP+ alpha Premium, RP+- alpha Premium, HDV / HDP+ Hygienic Design gearboxes, DP+ / HDP+ Gearboxes for Delta robots
Servo right-angle gearboxes : CPK / CPSK- alpha Basic, V-Drive Basic- alpha Basic, NPK / NPLK / NPSK / NPTK / NPRK alpha Value, LK+ / LPBK+ alpha Value, V-Drive Value- alpha Value, SC+ / SPC+ / TPC+ alpha Advanced, V-Drive Advanced, alpha Advanced, SK+ / SPK+ alpha Advanced, HG+ alpha Advanced, TK+ / TPK+ / TPK HIGH TORQUE - alpha Advanced, RPC+ alpha Premium, XPC+ alpha Premium, XPK+ alpha Premium, RPK+ alpha Premium
Servo motors- Rotative synchronous motors & Linear synchronous motors

cyber® dynamic motor
cyber® torque motor
cyber® power motor
cyber® kit motor
cyber® linear motor
Linear actuators

cyber® dynamic actuator L
cyber® force actuator

Special motors

cyber® hightemp motor
cyber® radhard motor
cyber® vacuum motor
cyber® ex motor
cyber® hygienic motor
cyber® cleanroom motor

Piezo drives

Nanoprecise stepper goniometer ECGp5050
Nanoprecise stepper goniometer ECGt5050
Nanoprecise stepper rotator ECR3030
Nanoprecise stepper rotator ECR4040
Piezo drive for linear, horizontal motion ECS3030
Piezo drive for linear, horizontal motion ECS3050
Piezo drive for linear, horizontal motion ECS3060
Piezo drive for linear, horizontal motion ECS3070
Piezo drive for linear, horizontal motion ECS3080
Piezo drive for linear, horizontal motion ECS5050

Servo drives

cyber® simco® drive 2
cyber® simco® drive 1
cyber® power drive
Subsea control and power electronics

Gearing

Bevel gears
Spur gears
Gearing solutions
Internal gearing
Servo actuators

Rotary servo actuators : SPM+ / TPM+ endurance, TPM+ , premo
Servo actuators for aviation applications : Doors and Slides Management System & Actuator for Aerial Refuelling System
Gearbox Galaxie Series

Galaxie® D
Galaxie® DF
Galaxie® G
Galaxie® GH
Wittenstein
https://www.wittenstein.de/en-en/company/wittenstein-group/
Giới thiệu
Tập đoàn WITTENSTEIN có trụ sở chính tại Bắc Mỹ, chuyên môn trong tất cả các công nghệ liên quan đến ổ đĩa cơ điện tử, ngoài ra sản xuất sản phẩm như hộp số hành tinh với độ chính xác cao, hệ thống truyền động cơ điện hoàn chỉnh và hệ thống và động cơ AC servo. Ứng dụng trong các lĩnh vực robot, máy công cụ, công nghệ y tế và hàng không vũ trụ.
WITTENSTEIN phát triển các sản phẩm, hệ thống và giải pháp tùy chỉnh cho chuyển động linh hoạt cao, định vị chính xác tối đa và mạng thông minh cho công nghệ truyền động cơ điện tử.
Các lĩnh vực WITTENSTEIN chuyên cung cấp thiết bị bao gồm :
- Xây dựng Máy và Nhà máy:
+ Tự động hóa, Robot, Xử lý
+ Máy công cụ
+ Thực phẩm & Bao bì
+ Chế biến gỗ
+ Chất bán dẫn & Lắp ráp điện tử
+ Chế biến nhựa & cao su
+ Các ngành khác
- Năng lượng
- Kỹ thuật y khoa
- Công nghệ đo lường và kiểm tra
- Công nghệ Nano
- Thăm dò Dầu khí
- Không gian vũ trụ
- Ô tô & E-Mobility
- Số hóa
Các Dòng Sản phẩm Chính của WITTENSTEIN :
Servo gearboxes – Hộp số servo

Low-backlash planetary gearboxes – Hộp số hành tinh sai lệch thấp : CP / CPS alpha Basic, LPB+ Generation 3 alpha Value, NP / NPL / NPS / NPT / NPR alpha Value, SP+ / SP+ HIGH SPEED, alpha Advanced, TP+ / TP+ HIGH TORQUE- alpha Advanced, XP+ alpha Premium, RP+- alpha Premium, HDV / HDP+ Hygienic Design gearboxes, DP+ / HDP+ Gearboxes for Delta robots
Servo right-angle gearboxes – Hôp số góc vuông : CPK / CPSK- alpha Basic, V-Drive Basic- alpha Basic, NPK / NPLK / NPSK / NPTK / NPRK alpha Value, LK+ / LPBK+ alpha Value, V-Drive Value- alpha Value, SC+ / SPC+ / TPC+ alpha Advanced, V-Drive Advanced, alpha Advanced, SK+ / SPK+ alpha Advanced, HG+ alpha Advanced, TK+ / TPK+ / TPK HIGH TORQUE - alpha Advanced, RPC+ alpha Premium, XPC+ alpha Premium, XPK+ alpha Premium, RPK+ alpha Premium
Special gearboxes – Hộp số đặc biệt
Servo motors- Rotative synchronous motors & Linear synchronous motors
Động cơ servo : Động cơ đồng bộ quay & Động cơ đồng bộ tuyến tính
cyber® dynamic motor
cyber® torque motor
cyber® power motor
cyber® kit motor
cyber® linear motor
Linear actuators – Bộ truyền động tuyến tính

cyber® dynamic actuator L
cyber® force actuator

Special motors – Động cơ mô tơ đặc biệt

cyber® hightemp motor
cyber® radhard motor
cyber® vacuum motor
cyber® ex motor
cyber® hygienic motor
cyber® cleanroom motor

Piezo drives – Bộ truyền động áp lực

Nanoprecise stepper goniometer ECGp5050
Nanoprecise stepper goniometer ECGt5050
Nanoprecise stepper rotator ECR3030
Nanoprecise stepper rotator ECR4040
Piezo drive for linear, horizontal motion ECS3030
Piezo drive for linear, horizontal motion ECS3050
Piezo drive for linear, horizontal motion ECS3060
Piezo drive for linear, horizontal motion ECS3070
Piezo drive for linear, horizontal motion ECS3080
Piezo drive for linear, horizontal motion ECS5050

Servo drives – Bộ truyền động Servo

cyber® simco® drive 2
cyber® simco® drive 1
cyber® power drive
Subsea control and power electronics

Gearing – Bánh răng

Bevel gears – Bánh rang hình côn
Spur gears – bánh rang trụ tròn
Gearing solutions – giải pháp bánh răng
Internal gearing- bánh răng trong / nội tiếp
Servo actuators – Bộ truyền động phụ / secvo

Rotary servo actuators - Bộ truyền động phụ / secvo – dạng xoay : SPM+ / TPM+ endurance, TPM+ , premo
Servo actuators for aviation applications – Bộ truyền động secvo cho ứng dụng hàng không : Doors and Slides Management System - Điều khiển Hệ thống cửa trượt & Actuator for Aerial Refuelling System – hệ thống nạp nhiên liệu
Gearbox Galaxie Series - Bộ truyền động/ Hộp số Galaxie

Galaxie® D
Galaxie® DF
Galaxie® G
Galaxie® GH