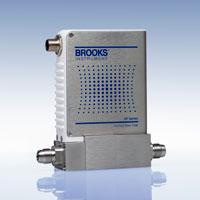 GF100, GF40/80 Series Thermal Mass Flow Meters & Flow Controllers
Nhà cung cấp: ANS VietNam
Liên hệ tư vấn

Sales ANS

sales.ans@ansvietnam.com

028 3517 0401
GF100 Series Thermal Mass Flow Meters & Flow Controllers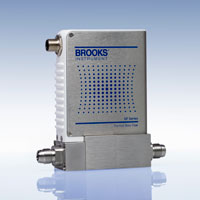 Designed for semiconductor, MOCVD and other gas flow control applications that require a high-purity, all-metal flow path, the Brooks GF100 Series mass flow controllers deliver outstanding performance, reliability and flexibility. The GF100 Series has been marathon-tested to over three times the semiconductor industry standard for reliability, ensuring repeatable low-drift performance over time.
Ultra-fast 300-millisecond settling time
Optional pressure transient insensitive (PTI), high accuracy and safe delivery system models available
MultiFlo™ gas and range configurability
Corrosion-resistant Hastelloy® sensor tube and valve orifice (jet)


GF40/80 Series Thermal Mass Flow Meters & Flow Controllers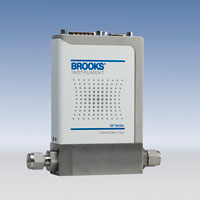 Designed for solar thin film deposition, CVD, vacuum processes, bioreactors and other industrial gas flow control applications that require cost-efficient solutions.
Elastomer or metal seal
Fast sub 1 second settling time
MultiFlo gas and range configurability
Corrosion-resistant Hastelloy sensor tube
MultiFlo Capable Thermal Mass Flow Controllers & Flow Meters
Max Pressure
Max Temp
Model
Type
Full Scale Capacity
Accuracy
bar
psig
C
F
Input/Output

GF125
Ultra-High Purity
PTI Metal Seal Mass Flow Controller
3 sccm - 55 slpm
N2 equivalent
±1% rate
(35-100% FS)
6
85
50
122
0 - 5 Vdc / RS485 / DeviceNet™



GF120
Ultra-High Purity
Metal Seal Mass Flow Controller or Flow Meter
3 sccm - 55 slpm
N2 equivalent
±1% rate
(35-100% FS)
33
485
50
122
0 - 5 Vdc / RS485 / DeviceNet™



GF100
High Purity Metal Seal Mass Flow Controller or Flow Meter
3 sccm - 55 slpm
N2 equivalent
±1% rate
(35-100% FS)
33
485
50
122
0 - 5 Vdc / RS485 / DeviceNet™



GF125 (HA)
Ultra-High Purity High-Accuracy Metal Seal Mass Flow Controller or Flow Meter
5 sccm - 10 slpm
N2 equivalent
±1% rate
(10-100% FS)
6
85
50
122
0 - 5 Vdc / RS485 / DeviceNet™

GF120 (SDS)
Safe Delivery System
Ultra-High Purity Safe Delivery Metal Seal Mass Flow Controller
4 sccm - 1 slpm
±1% rate
(35-100% FS)
33
485
50
122
0 - 5 Vdc / RS485 / DeviceNet™
Max Pressure
Max Temp
Model
Type
Full Scale Capacity
Accuracy
bar
psig
C
F
Input/Output

GF80
Metal Seal Mass Flow Controller or Flow Meter
3 sccm - 30 slpm
±1% rate
(35-100% FS)
10
150
65
150
0-5 Vdc / 4-20 mA / Profibus / RS485 / DeviceNet™



GF40
Elastomer Seal Mass Flow Controller or Flow Meter
3 sccm - 30 slpm
±1% rate
(35-100% FS)
10
150
65
150
0-5 Vdc / 4-20 mA / Profibus / RS485 / DeviceNet™
Brooks Vietnam | ANS Vietnam