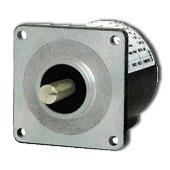 Elap Encoder MRE - Elap Vietnam | ANS Vietnam
Nhà cung cấp: ANS VietNam
Liên hệ tư vấn

Sales ANS

sales.ans@ansvietnam.com

028 3517 0401
Encoder MRE
Single turn absolute encoders
Stout and accurate, the single turn absolute encoders series MRE are the ideal solution to releave motions on operating machines of all industrial sectors.
The different output signals - SSI serial or NPN/PNP parallel - and the voltage supply range allow to couple MRE encoders to any counting or PLC system available in the automation market, and to ELAP controllers array.
Thanks to their high resolution – 9, 12 or 13 bit with binary or Gray code, MRE encoders can be employed for applications needing great accuracy.
Different mechanical versions are available, all housed in an alluminium case granting high protection against environmental agents.
Technical specifications
Single-turn absolute encoders
Resolution 8, 9, 10, 12 or 13 bit, Gray or Binary code
SSI serial output or parallel output or 0÷10V analogue output
Output signals: NPN or PNP open collector, push-pull
Axial cable outlet, standard cable 1 m long, or connector outlet
Supply: 10/24 Vdc or 5 Vdc
Aluminium case
IP64 protection degree
Related documents
---
Series MRE520
Servo coupling
Ø 58 mm SIZE23
aluminium case
shaft diameter 6, 8,
9.52 or 10 mm
---
Series MRE410
Hollow shaft
for direct coupling to motors,
shaft Ø 8, 10, 12, 14, 15 mm
---
Series MRE620
Square flange
mm63.5x63.5 SIZE25
aluminium case
shaft Ø 6, 8, 9.52 or 10 mm
Series MRE540
Round flange
Ø 58 mm
Centering mask Ø 36 mm
3 M3 holes at 120° on Ø 48 mm
shaft diameter 6, 8, 9.52 or 10 mm
---
Series MRE430
Hollow shaft
for direct mounting to a motor shaft, hole diameter 8, 10, 12, 14 or 15 mm
Fixing by elastic support