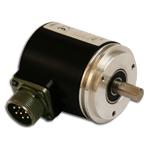 Elap Encoder E520 - Elap Vietnam | ANS Vietnam
Nhà cung cấp: ANS VietNam
Liên hệ tư vấn

Sales ANS

sales.ans@ansvietnam.com

028 3517 0401
Encoder E520
Ø 58 mm round flange
The range of incremental encoders with 58 mm round flange includes different mechanical types: the series E520, with centering mask diameter 50 mm, compatible with the international standard SIZE23, E540, with centering mask diameter 36 mm and E510 with centering mask diameter 31.75.
All the types are housed in a plastic or metal case (metal-cased series are named RE). The encoder series RE530, with international standard flange type RE0444 avails exclusively on the alumium housing.
The connection type and position can be chosen among different options, as well as the supply voltage, the output signal formats and the shaft diameters.
The pulses per revolution number ranges from 2 to 10000 – or up to 36000 in the series named REV, with aluminium case and glass disc.
The zero reference pulse option is available for all the series (type E521/RE521/REV521 etc.).
Technical specifications
Voltage supply 8/24 or 5 Vdc – Power consumption 30/80 mA
Max counting frequency 100 KHz – 200 KHz for ppr > 1000
Axial or radial connector outlet, equipped with the flying part – Axial or radial cable outlet, 3 m long cable (cable length 1 m with line driver output)
Output signals: NPN open collector, push-pull, 5 Vdc line driver (supply 5 or 8/24 Vdc), 8/24 Vdc line driver (supply 8/24 Vdc)
Protection against short circuit and polarity reversal
ABS plastic case (series E) or aluminium case (series RE)
IP64 protection degree (optional IP65 with O-ring mounted on the shaft)
Related documents
---
Series E520
Round flange
Ø 58 mm, servo coupling
Centering mask Ø 50 mm
Shaft Ø 6 - 8 – 9.52 or 10 mm
ABS plastic case
International standard
SIZE23
Pulses/revolution: 2÷10000
---
Series REV520
Round flange
Ø 58 mm, servo coupling - Centering mask Ø 50 mm - Shaft Ø 6 - 8 – 9.52 or 10 mm -
Aluminium case and glass disc
- International standard
SIZE23
Pulses/revolution: 1000÷36000
---
Series RE540
Round flange
Ø 58 mm, servo coupling
Centering mask Ø 36 mm
Shaft Ø 6 - 8 – 9.52 or 10 mm
Aluminium case
Pulses/revolution: 2÷10000
---
Series E510
Round flange
Ø 58 mm, servo coupling
Centering mask Ø 31.75 mm
Shaft Ø 6 - 8 – 9.52 or 10 mm
ABS plastic case
Pulses/revolution: 2÷10000
---
Series REV510
Round flange
Ø 58 mm, servo coupling
Centering mask Ø 31.75 mm
Shaft Ø 6 - 8 – 9.52 or 10 mm
Aluminium case and glass disc
Pulses/revolution: 1000÷36000
---
Series REV530
Round flange
International standard
RE0444
Shaft Ø 11 mm