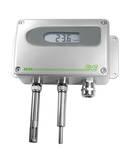 EE220 Humidity / temperature transmitter with exchangeable sensors - Epulse Vietnam | ANS Vietnam
Nhà cung cấp: ANS VietNam
Liên hệ tư vấn

Sales ANS

sales.ans@ansvietnam.com

028 3517 0401
Specific for the humidity / temperature EE220 are the interchangeable sensing probes EE07 or EE03 with connectors.
The calibration data is stored in the probes, which are interchangeable and therefore probe replacement does not affect the performance of the EE220.
The outstanding accuracy over the entire temperature range is based on very precise calibration methods and on the latest microprocessor technology. Well-proven E+E humidity sensor elements ensure excellent long-term stability.
Techn. data
Measuring range

0...100% RH; -40...80°C

Outputs

0...1/5/10 V or 4...20 mA

Accuracy

+/-1.5% RH; +/-0.1°C

Supply

24V AC/DC
Manual
3430.82 kb
586.99 kb
821.13 kb
150.17 kb
Epulse Vietnam | ANS Vietnam