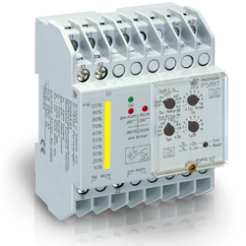 DOLD insulation and differential-current monitors - Dold Vietnam | ANS Vietnam
Nhà cung cấp: ANS VietNam
Liên hệ tư vấn

Sales ANS

sales.ans@ansvietnam.com

028 3517 0401
DOLD insulation and differential-current monitors
Unscheduled downtimes of machines and plants mean a considerable cost factor. By early detection of insulation faults DOLD insulation monitors help to prevent failures of electrical equipment and thus ensure a better operating reliability and plant safety.

They are used both in earthed and also non-earthed systems, but differ in their function principle:
In earthed systems (TN systems) DOLD differential-current monitors detect fault current with the principle of differential-current measurement and are mainly used to avoid cost-intensive downtimes and to prevent the risk of fire which is latent in the case of slowly evolving insulation faults.
In non-earthed systems (IT systems), the insulation resistance to earth of the system to be monitored is measured. Such systems are secured by insulation monitors the use of them in IT systems is required by law by the norm "Safety of Machinery" DIN EN 60204-1 or DIN VDE 0100-410. Thanks to deliberately kept simple functionality of DOLD's insulation monitors customers benefit from a considerable cost advantage combined with the high quality standard accustomed from DOLD.
Differential-current monitors: for earthed systems
Differential-current monitors: for earthed systems

Function
Type of
voltage
Adjustable
measuring
ranges [A]
Relay
contact/
output
Adjustable
operate
delay
Warning
and alarm
indicators
Test
key
clear
key
Broken
conductor
detection
Housing Style:
Width [mm]
Type
Differential-current monitor,
standard
AC; DC
pulsating
0.01...10
+
+
LED
+
+
+
Distribution board: 35
Switch cabinet: 35
IL 5882,
SL 5882
Differential-current monitor,
universal-current-sensitive
AC; DC; DC
pulsating
0.01...3
+
+
LED
+
+
+
Distribution board: 70
IP 5883 New !
Dold Vietnam | ANS Vietnam