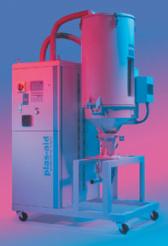 DMZ2 Dehumidifying Dryer - Matsui Vietnam | ANS Vietnam
Nhà cung cấp: ANS VietNam
Liên hệ tư vấn

Sales ANS

sales.ans@ansvietnam.com

028 3517 0401
DMZ2 Dehumidifying Dryer
Introducing the DMZ2 Dehumidifying Dryer



Versatile, high performance in a compact, portable design.

Download the brochure.

Packed with performance
The DMZ2 is the ideal dehumidifying dryer to integrate with your central loading system or to handle multiple hoppers. It offers more features as standard equipment with a smaller footprint than comparable systems, giving you maximum performance in minimal space.

Virtually maintenance-free
The DMZ2's rotor has a 15-year life, designed to run without replacement. Heater circuits have solid-state relays, providing 10 years of maintenance-free operation. Routine maintenance can be performed from the front of the system, quickly and easily.

Ideal for pet bottle production
The ideal unit when exceptional quality is imperative, the DMZ2 maintains stable IV and low AA levels, and brings moisture content below 50 ppm. It can dry PET in as little as 3 hours and has throughput up to 1500 kg/hr and larger.

High performance hopper design
The DMZ2's drying hopper uses a unique diffuser-cone technology to create mass flow with no short pass. This ensures all resin leaving the hopper is consistently dry and up to temperature. Smaller units have a tilt-open feature to make cleanups and resin-changes fast and easy.

Touchpad programming
An easy-to-use touchpad simplifies programming, enabling you to preset operations, monitor settings, view progress and make changes effortlessly.

Energy-saving production
Insulated stainless steel construction prevents heat loss, and while drying resin in half the time, it saves hours of energy with every material change.
Matsui Vietnam | ANS Vietnam